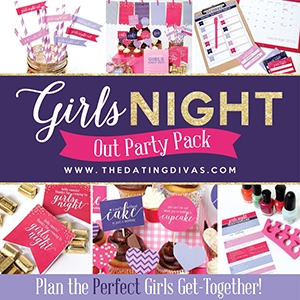 Okay ladies, this one is for you!
I don't know about you, but I often get caught up in the day-to-day of life. Chores, kids, meals, work…you know the drill (probably all too well!) I get drained reeealllly easily with all that I have going on, and as much as I ADORE my husband – nothing helps me forget about yoga pants and dried baby food on my shirt like a fun girls night out!
I recently came across this from The Dating Divas, and I think it is SO much fun!
This pack has everything you need to make a fun girls night out happen EVERY month! What a great idea – too good not to share!
The pack includes:
Girls Night Questionnaire to poll your friends' interests
Party Invitations- printable and mobile versions
Pretty Party Decor for the first girls night party
Party Favors for the ladies AND the guys at home
Icebreaker Game called "Whose Lie Is It Anyway?"
Organizing Tools for the host to coordinate future get-togethers
This pack is a MUST see! It looks like a much-needed night of pure fun! CLICK HERE