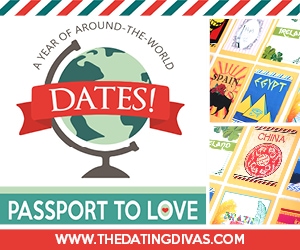 My husband and I are all about some amazing adventures. We love to try new foods and visit new places. If we could, we would spend just about every free moment we had traveling together. But that's where the problem is. Everyday life just gets in the way: school, work, bills. We have so many obligations that fun date nights just aren't always in the budget.
But I've just discovered the next best thing to actually traveling abroad: a YEAR of date nights that are inspired by fun cultures from all over the world! The Dating Divas have put together a kit of printables so that every month, you can choose a new country to "visit" with your spouse without ever having to leave your house!
To help you broaden your horizons and explore the fun of these 12 fantastic countries, all you have to do is print off everything that's included in the bundle. For EACH country you get:
– An Invitation
– Recipe Cards
– A Date Night Activity
– A Sexy Bedroom Activity
– Bonus Ideas to Extend the Fun!
You will be visiting places like India, France and Brazil. Get ready for TWELVE exotic date nights right in the comfort of your own home! This date night bundle has absolutely everything you need for a full night of fun.
If you and your loved one are ready to immerse yourselves in cultures from all over the globe, you can grab all 12 Around the World Date Nights and have the next year of adventures completely planned out without having to lift a finger – except maybe to click print!